Parish News for Sunday 27th April 2008
Vol.35 No.17

Sixth Sunday of Easter,
PRIESTS OF THE PARISH
Very Rev Michael Canny Adm
Rev David O'Kane CC
Rev Gary Wade CC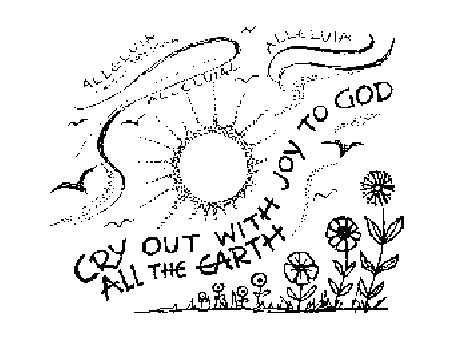 CLICK HERE FOR THE 2007 FINANCIAL REPORT
The Human Person as the 'Imago Dei'
Recently the pro-life group Precious Life collected 120,000 signatures from around Northern Ireland to petition MP's to reject plans that might liberalise abortion laws. While many people from a variety of political and religious backgrounds oppose abortion, it is particularly important for Catholics to defend the right to life. In the very first book of the Old Testament we are told that we are made in the image and likeness of God. Therefore, 'being in the image of God the human individual possesses the dignity of a person, who is not just something, but someone ...'1 So many aspects of modern living have become disposable, but the gift of human life is not ours to dispose of. God is the author of all life and no matter how fragile this life is, we are still called to respect and protect it. The social teaching of the Catholic Church highlights the many human rights that we its followers are called to defend. The right to life is considered to be the most fundamental human right, '... which is the condition for the exercise of all other rights, in particular, it implies the illicitness of every form of procured abortion and of euthanasia.'2 If this basic human right is violated then all other rights are at least undermined if not rendered obsolete. While many of us are comfortable in upholding and even promoting pro-life values and ideals, the Church challenges us to real action, 'Unfortunately there is a gap between the 'letter' and the 'spirit' of human rights which can often be attributed to a merely formal recognition of these rights.'3 By virtue of our baptism each of us is called to share in Christ's mission of protecting the most vulnerable members of our community, the poor, the sick, the elderly, the young and the unborn.
Diocesan Commission for Justice and Social Affairs, Diocesan Pastoral Centre, 164 Bishop St, Derry
.
1 Compendium of the Social Doctrine of the Church (2004) Par. 108
2 Ibid. Par. 155
3 Ibid. Par. 158
Safe-guarding Children in St Eugene's Parish
The safe-guarding of children is at the very heart of the church's activity. The relationship between Jesus and children was one which valued them and nurtured them. The example of Jesus is, of course, always our standard.
In our parish many people work together to safe-guard children taking part in church activities. Our Parish Representatives for Child Protection are key to this. Along with all who work with children in the parish community, best practice in child-safeguarding is our goal.
Within the Diocese as part of best practice, it is important that each parish fulfil the POCVA requirements of civil law in Northern Ireland. This is the vetting process for all who work with children, whether as employees of the parish or as volunteers. I would ask everyone to cooperate in vetting, both those who are new recruits to parish activies with children, and those who have generously done so for many years. Child safe-guarding is part of our Christian calling.
I thank all of you, who are engaged with children in this parish, for the wonderful work you do, building up the Kingdom of God among the next generation of young Catholics.
Bishop Séamus Hegarty

The Little Way Novena
The Little Way Novena will take place in the Cathedral from Saturday, 10th May until Sunday, 17th May. This will be an opportunity for people to come and pray for a special intention and to ask St Thérèse to intercede for them. The Novena will begin at the 7.30 pm Mass on Saturday, 10th May. Monday to Friday there will be Novena Masses at 6.30 am and 10.00 am each morning and an evening service with a guest speaker at 7.30 pm each evening. The theme is 'When I am weak then I am strong'. Everyone is welcome to the Cathedral for this time of prayer and petition.
Sympathy
We offer our sympathy to the family and friends of:
John Deery, 21 Argyle Terrace. May he rest in peace.
Baptism
We welcome a as member of the Christian community
Dara Aine Hegarty, 12 Glenowen Park.
Readers on duty next Weekend
06.15 Garvin Kerr
07.30 Anna McMahon
09.30 Louise Davis
11.00 Eugene McClintock
12.30 Adele McCauley
Weekdays
10.00 Eugene McClintock
07.30 Mona Tracey
Eucharistic Ministers
Team *C* begins its rota at the 6.15 pm Vigil Mass next weekend.

Deaf Chaplaincy: There will be a Mass for the Profoundly Deaf in the Nazareth House Chapel next Sunday, 4th May at 3.00 pm.
Mass in Termonbacca today (Sunday) in honour of Blessed Alexandrina Maria Da Costa at 7.30 pm.
Thank you
Fr Canny acknowledges with thanks donations for:
Holy Land Shrines: £10. St Joseph's Young Priests: £30.
Last Week's Collection amounted to £3,402.
Parish Draw
To purchase a ticket by instalments or full payment contact Matt McColgan at 71268997. Parish Draw contributions will be collected every First Friday from 6.30 - 8.30 pm in the room above the Sacristy.
St Eugene's Parish Hall: Sunday: Long Tower Bingo 8.40 pm. Tuesday: Long Tower Bingo 9.00 pm.
Please note
The work to reorganise the layout of the
ground floor of the Parochial House
will begin on Monday.
Access to the Parochial House
will be via the door at Windsor Terrace.
Sorry for any inconvenience.