Parish News for Sunday 13th Dec. 2009
Vol.36 No.49
Third Sunday of Advent
PRIESTS OF THE PARISH
Very Rev Michael Canny Adm
Fr Peter Raftery CSSp
Rev Daniel McFaul CC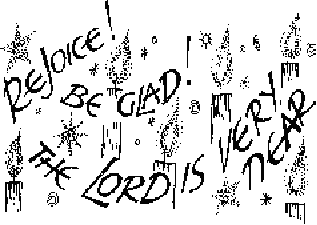 The Nearness of God
The prophet Zephaniah, writing in the seventh century BC, bids Jerusalem to rejoice because salvation is near (First Reading). God stands in her midst and will deliver her from her enemies. God is portrayed, not only as a king and warrior, but also as a loving bridegroom, who steadfastly loves his unworthy and unfaithful bride.
The theme of joy is even more emphatic in the Second Reading. Paul calls on the Philippians to rejoice because the Lord is near. (Paul was thinking about the Second Coming, which he believed was near.) So there is no need to worry. If they need anything, they are to pray for it, and the peace of God will be with them.
The theme of the nearness of the Lord is also at the heart of the Gospel. John the Baptist tells the people what they must do in order to prepare for the Lord's coming and to escape his searching judgement. At the same time he makes it clear that he is subordinate to Jesus.
Excerpt from 'New Sunday and Holy Day Liturgies, Year B'
by Flor McCarthy SDB

Next Sunday's Readings:
First Reading (Mic 5:1-4). The prophet Micah announces to the beleaguered inhabitants of Jerusalem that a Ruler will come from Bethlehem who will bring them peace.
Second Reading: (Heb 10:5-10). Jesus came, not to offer the sacrifices of the old law, but to do the will of God. His one perfect sacrifice replaces all the former sacrifices.
Gospel: (Lk 1:39-45). Elizabeth praises Mary, and, enlightened by the Holy Spirit, hints at the uniqueness of the child she has concieved.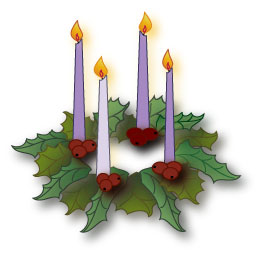 Morning Prayer in Advent
Monday to Friday inclusive at 9.30 am
St Eugene's Cathedral Carol Service
next Sunday, 20th December at 6.00 pm
This promises to be an enchanting evening of song, prayer and readings as we prepare to celebrate Christmas. As is customary we appeal for children to bring presents of new toys and adults to donate sweets, biscuits, vouchers or cash (no other foodstuffs) to make Christmas a happy time for other families who are less fortunate. Please identify wrapped gifts with gender and age. St Vincent De Paul Society will distribute the gifts to the families in the area.
Thornhill College's Carol Service
here in St. Eugene's Cathedral
on Thursday at 8.15 pm.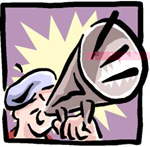 Calling all Instrumentalists
If you would be available and would like to play in St Eugene's Cathedral Orchestra at the Christmas Eve Midnight Mass please contact Sister Perpetua on 07549801610.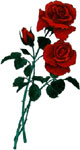 Sympathy
We offer our sympathy to the family and friends of:
Mark McElhinney,
25 Aberfoyle Terrace.
Gordon Horton,
44 Westway.
May they rest in peace.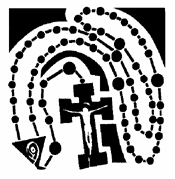 Anniversaries
We remember the anniversaries of:
Norah Teresa Mullan, Annie O'Reilly and Mary (Dottie) Clarke.
May they rest in peace.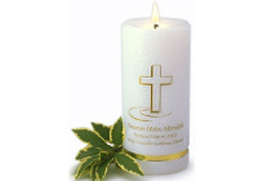 Baptism
We welcome as members of the Christian community:
Martin Emmett O'Donnell,
Flat 5, Shepard's View.
Abigail Fiona Mullan,
31 Glencaw Park.
Sarah Anne Gill,
25 Glenside Gardens.
Abigail Gamble,
47 Glen Road.
Anna Crumlish,
82 Ardgrange.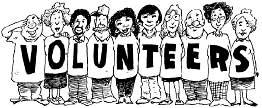 Readers
Weekdays
10.00 am Jimmy Doyle
07.30 pm Charlie McDermott
Readers on duty next Weekend
06.15 pm Thomas Gallagher
07.30 pm James Garvin
09.30 am Brendan Burns
11.00 am Patrick Lynch/
Blanaid Barr
12.30 pm Don Clarke
Eucharistic Ministers
Team *A* begins its rota
at the 6.15 pm Vigil Mass
next weekend.
Sick Visitation
Fr Daniel McFaul will visit the sick this week as follows:
Mon 10.00 am: Rosemount Gdns, Montrose Gdns, Ernest St: Rosemount Ave, Academy Tce, Northland Parade, Tutor Close, De Burgh Tce.
Mon pm: Lower Nassau St, Glen Road, Ardglen Pk, Glenbank Rd, Northland Rd, Edanmount Pk, Glenview St.
Tues am: Meadowview Cres, Osborne St, Norcross St, Baldrick Cres, Cedar St, Argyle St, Argyle Tce, Glasgow Tce, Glenview Ave.
Tues pm: Glenbrook House.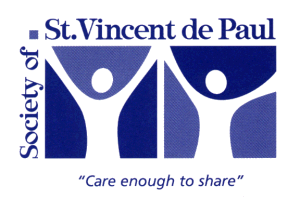 St Vincent de Paul acknowledges with thanks
a donation of £100 recently received.

Youth2000 Retreat from Friday next until Sunday in Newbridge, County Kildare. Free bus leaving Derry on Friday at 1.00 pm opposite the Foyle Valley Railway Station. The retreat is for young people aged 16-35 yrs and is donation only.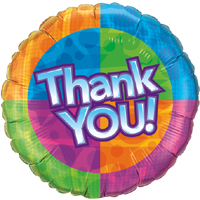 Fr Canny acknowledges with thanks donations for: Trócaire: £110, £60. St Pio: €20. Fr Paddy McIntyre's Missionary Work: £144.50. Cathedral Funds: £200. Fr Canny will forward a donation of £50 to LASCO.

Last Week's Collection amounted to £3513.

The Good Shepherd Sisters thank all who supported last weekend's Sharing Fair Christmas Sale which raised £2,500 including donations. The Sisters have a permanent stock of items at 38 Dungiven Road, telephone 71342429.

Three Advent evening retreats in preparation for Christmas in Termonbacca on Monday, Tuesday and Wednesday from 7.30 pm to 10.00 pm. An opportunity to spend some time in quiet adoration, receive the Sacrament of Reconciliation and celebrate Mass.
Gift Shop at Iosas Centre And Celtic Prayer Garden, Lenamore Road, Muff. Christmas gifts, cards and handmade items on sale.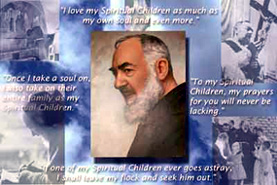 The Holy Family Padre Pio Prayer Group Monthly Meeting in the Holy Family Church, Ballymagroarty on Tuesday night starting with 7.30 pm Mass. There will be two 1st class relics of St Pio available at the meeting.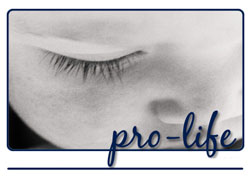 Pro-Life Devotions on Tuesday in St Columb's Church, Waterside commencing with Rosary at 7.00 pm followed by Mass at 7.30 pm.
Mass in honour of Blessed Alexandrina Maria Da Costa today (Sunday) at 7.30 pm in Termonbacca.